Are you looking for a comprehensive guide to thin-section bearings? Look no further! In this article, we'll discuss the applications and benefits of thin section bearings and provide an overview of what they are. Thin section bearings have become increasingly popular in recent years due to their ability to reduce weight while still providing reliable performance.
We'll explore how these unique components can be used in various industries, as well as examine the advantages they offer over traditional bearing designs. Finally, we will wrap up by discussing some best practices when it comes to selecting and using thin section bearings in your application. So read on if you want to learn more about this fascinating subject!
Types of Thin Section Bearings
Thin section bearings are an important component of many machines and applications. There are several varieties, each with its advantages and drawbacks.
Common types include radial contact bearings, angular contact bearings, four-point contact bearings, and crossed roller bearings. Radial contact bearings provide basic support by allowing a shaft to rotate around its central axis.
Angular contact bearing designs allow for higher loads in one direction while also providing support from both sides of the bearing's inner race simultaneously. Four-point contact ball bearings offer increased stiffness compared to their radial counterparts but can handle only lighter loads in either direction along the shaft's axial plane.
Crossed roller or crossed cylindrical roller models offer extremely high precision rotation capabilities due to multiple rows of rollers that cross each other within the bearing itself.
Applications for Thin Section Bearings
Thin section bearings are increasingly becoming a relevant choice of bearing for many applications due to their wide range of benefits compared to traditional bearing types. From aerospace and robotics applications to automotive and medical technology, thin-section bearings can be used in any sector or industry that requires precision engineering.
The main advantages of using thin-section bearings are that they provide high load capacity, low noise output, and excellent stiffness as well as being lightweight and having low friction coefficients.
These properties make them ideal for high-speed motors, robotic joints, and actuators where weight reduction is key. Additionally, the reduced cross-sectional area allows them to fit into tight spaces with ease making them suitable for limited space applications such as satellite launchers or miniature equipment such as hearing aids.
Thin Section Bearings also can operate at very low speeds while maintaining accuracy which makes them perfect for use in precise instruments like gyroscopes or surveying tools.
Their superior rigidity means they can perform well under shock loading making them great choices in suspension systems where impact resistance is required such as vehicles designed for off-road conditions or military combat vehicles.
Finally, they are extremely durable even when exposed to extreme temperatures which makes them an ideal choice in industries such as mining where operations may take place underground with hostile environmental conditions.
Troubleshooting Common Issues with Thin Section Bearings
Thin section bearings can be incredibly useful for a variety of applications, however, they do come with a few common issues. In this subheading, we will cover some basic troubleshooting tips so you can quickly and easily identify the root cause of your issue and take appropriate action to remedy it.
First, let's look at how improper installation or maintenance may lead to bearing failure. Bearing installations should always follow manufacturer instructions closely; otherwise, incorrect preloading can occur which leads to accelerated wear or even complete bearing failure in extreme cases.
Regularly scheduled lubrication is also important as proper lubrication is essential for long-term bearing performance.
Incorrect alignment between mating components such as shafts and housings can also cause problems with them – resulting in misalignment forces that act on the rolling elements themselves leading to premature fatigue failure over time if not addressed quickly enough.
Misalignment is often caused by poor design but it's just as easy for it to creep into an existing setup due to careless assembly or incorrect installation procedures being followed when replacing parts during maintenance work.
Conclusion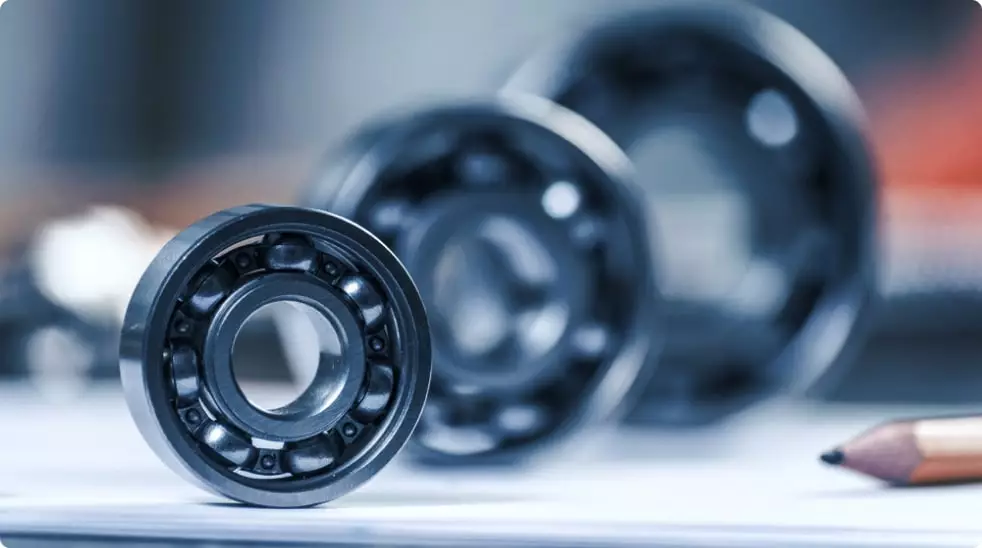 Thin section bearings are a great option for many applications due to their lightweight, low-profile design. They offer a wide range of benefits including increased load capacity, improved stiffness and accuracy, and reduced noise levels.
Thin section bearings can be used in a variety of industrial applications from robotics to medical devices and even aerospace components. With so many advantages it's no surprise that they have become increasingly popular over the years.
As technology continues to advance, thin-section bearings will remain an essential component for any application requiring size and weight reduction without compromising performance or reliability.